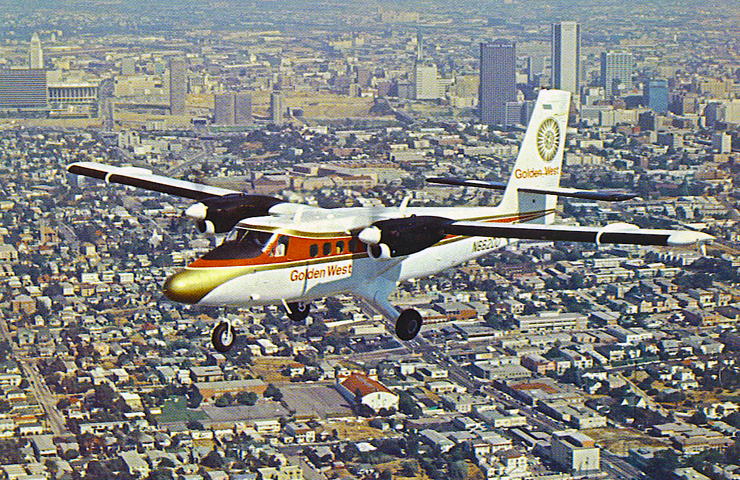 2011 March 08

N157KM Lost in Tragic Accident

N157KM (s/n 57)
2008
Photo: © Tom Arne Paulsen

Shortly after take off from Clayton County Airport - Tara Field (K4A7/4A7) near Hampton, Henry County, Georgia, USA, Twin Otter N157KM crashed into the woods near by the airport at 11:45 PM today. Both persons aboard were killed; Bryan Hedrick (37) from Roswell and Oriel Roberts (48) from Hampton. Reportedly Hedrick was flying the aircraft when the accident happened.

The aircraft had been to National Aerotech Aviation for maintenance, and was undergoing some final post-maintenance flight tests when the accident happened. Roberts was one of the owners of the maintenance company National Aerotech, while Hedrick was a pilot for the owner of the aircraft. The cause of the accident is not known at this date.

N157KM is former "XJ-L" / "057" (s/n 57), operated by RNoAF 719 squadron from new in 1967 until the squadron was disbanded in 2001. In 2002 the Twin Otter was sold to the USA and registered N157KM. In the USA the aircraft was used mostly for skydiving. In 2007 and 2008, N157KM was back in Norway, leased to Tønsberg Fallskjermklubb at Jarlsberg airfield. There were negotiations to buy the Twotter back to Norway, but they stranded.

2007 July 10

"Tunsberg 2" Is On Her Way!

N157KM (s/n 57)
2006
Photo: © Øivind Godager

Today at local time 01:00 Twin Otter N157KM (s/n 57) took off from Luisburg, North Carolina, for her ferry flight back home to Norway. The route will be the same as for LN-JMP (s/n 184), when she was ferried back to Norway in April 2006; North Carolina - Boston - Bangor -Goose Bay - Keflavik - Torp - Jarlsberg. The Twin Otter is expected to land at her home base at Jarlsberg on 12 or 13 July.

The the ferry pilot is Svein Tveitnes, a Norwegian from Hardanger, working as a pilot for Skydive Dallas, Dallas, Texas, flying Twin Otters, Caravans and Cessna 182s. Mr. Tveitnes will be in Norway a few months to help Tønsberg Fallskjermklubb with the introduction of their second ex RNoAF Twin Otter. Former owner Kevin McCole and one of his pilots have joined Tveitnes on the ferry flight.

The new Twin Otter will be operated on US Register for a while, before Norwegian registration will be applied for. As told earlier, s/n 57 will be operating for Grenland FSK from Geiteryggen, Skien, this summer and autumn. The owners also hope to operate the Twin Otter for other commercial contracts off season.

More information and photos will follow!

2007 June 21

S/N 57 Is Coming Home!

N157KM (s/n 57)
Photo: © unknown

The Norwegian skydiving club Tønsberg Fallskjermklubb has started preparations to bring 'home' the second RNoAF Twin Otter that was sold to Mr. Kevin McCole, Massachusetts, USA, in 2002! N157KM is s/n 57, ex RNoAF 719 Squadron "XJ-L"/"057". The Twin Otter was used for skydiving by Jumptown, the home of the Massachusetts Sport Parachute Club (MSPC), Orange, Massachusetts, USA. Current plans are that N157KM will arrive in Norway at some date between 1. and 15 July.

S/n 57 will be owned by A/S Hoppfly and operated by the skydiving club, same as LN-JMP (s/n 184). Plans for this Summer include skydiver lifting from Geiteryggen Airport in Skien and lifting during Norwegian Skydiving Championships from Jarlsberg 14 - 18 August 2007.

Negotiations will also be made with the Norwegian DoD to operate the Twin Otter for skydiving training with "Hærens Jeger Kommando" (Norwegian Army Special Forces) and "Marinens Jeger Kommando" (Norwegian Navy SEALs).

Our reporter from Tønsberg Fallskjermklubb also reports that LN-JMP performs like a dream! The engines will be due for overhaul during next winter, and plans are that the PT6A-20 engines will be replaced by more powerful PT6A-34 engines and 4-blade propellers.

Norwegian pop star Mira Craig visited Jarlsberg on 20 May and made a tandem jump from LN-JMP. Newspaper "Dagbladet" published an article, video and a magazine front page on this story - excellent promotion for skydiving!

2006 April 17

The Eagle Has Landed!

LN-JMP at Torp tonight!
Photo: © Tom Arne Paulsen

Tønsberg Fallskjermklubb's new Twin Otter LN-JMP (s/n 184) landed on Torp Airport, Norway, at 22:40 local time tonight, after a 6 h 10 min non-stop flight from Keflavik, Iceland! The weather was very nice and thanks to strong downwinds, the final leg could be made without any landing for refueling underway to Torp. The Faeroy Islands were passed 17:30 and the oil rigs could be seen in the dark when approaching the Norway coast. More information will follow when available! Congratulations to the crew Sture Isaksson, Harald Olsen and Øivind Godager for bringing 184 safely back home!!!

Below is a summary of the ferry flight:

Date:
Route:

Time:

Remarks:
14 Apr 2006
Luisburg, NC - Bangor, MA
4 h 43 min
780 NM
TO: 08:34 LT
TA: 13:17 LT
FL: 90
Partly rain.
16 Apr 2006
Bangor, MA - Goose Bay, Canada

4 h 50 min

620 NM
TO: 08:10 LT
TA: 13:00 LT
FL: 90
Rain and icing.
Refueling.
16-17 Apr 2006
Goose Bay, Canada - Keflavik, Iceland
7 h 57 min
1326 NM
TO: 17:03 LT
TA: 05:00 LT
FL: 130
650 US Gal A1
Very nice WX. Full moon!

17 Apr 2006
Kaflavik, Iceland - Torp, Norway

6 h 10 min

1037 NM
TO: 14:30 LT
TA: 22:40 LT
FL: 100
Very nice WX. Strong downwind.

Here is a video from the arrival: http://mikrofly.com/kenneth/ln-jmp2.wmv by Kenneth G. Sørensen!

2006 Apr 13

LN-JMP Ferry Flight

From USA it is reported that the ferry flight of LN-JMP (s/n 184) from USA to Norway will start today. Ferry pilot Sture Isaksson has arrived to fly the aircraft. Øivind Godager is also in the ferry crew as a passenger and assistant. The 2P, Harald Olsen, will join the crew at Goose Bay, Canada.

LN-JMP will fly in formation with the other ex RNoAF Twin Otter N157KM (s/n 57) up the east coast of USA to Boston. At Bangor, Maine, survival equipment will be taken aboard. If there is time left today, the flight will continue to Goose Bay.

2006 Apr 09

Twin Otter To Norway

It is with great joy it is reported that ex RNoAF 719 Squadron Twin Otter s/n 184 is on her way back home to Norway, after 4 years in the USA! The Twin Otter was sold to Mr. Kevin McCole, Massachusetts, USA, in 2002 and registered N184KM. The Twin Otter was used for skydiving by Jumptown, the home of the Massachusetts Sport Parachute Club (MSPC), Orange, Massachusetts, USA.

Jumptown started as the University of Massachusetts (Amherst) skydiving club in 1959 and was located in Turners Falls, MA until 1995 when they moved to larger facilities in Orange, MA.

The Twin Otter has now been purchased by a group of skydiving enthusiasts operating from Jarlsberg Airport, near Tønsberg. A company called "Hoppfly AS" has been formed as owner of the Twin Otter. The Twin Otter will be operated for Tønsberg Fallskjermklubb.

The Twin Otter got the Norwegian Reg, No. LN-JMP painted on the fuselage on 5 April, the same day that Norwegian CAA inspector Einar Bjørnebekk inspected and approved the aircraft for a temporary C of A at Luisburg, North Carolina. Norwegian pilot veteran Thore Virik also got a check out flight. On April 10, 2006, N184KM was cancelled from US Registry.

Ex RNoAF Twin Otter 057 is also located at the airport. Registered N157KN, the aircraft is currently undergoing a major overhaul on left engine. Owner Kevin McCole is also selling N157KM...

Kevin McCole and Thore Virik were originally supposed to ferry the LN-JMP 'back home' to Norway. However, new information today suggest that ferry pilots will be Twin Otter veteran pilots Sture Isaksson and Harald Olsen. Øivind Godager will also be aboard, documenting the flight! The planned route is Raleigh (NC) - Bangor (Maine) - Goose Bay (Canada) - Keflavik (Iceland) - Flesland (Norway) - Jarlsberg (Norway).

The ferry flight is expected to start on Wednesday 12 April.

Photos and updates thanks to
Øivind Godager
Renate Grantsdottir
Morten Olsen Nesheim

2006 Feb 23

Twin Otter in Production Again?

On February 23rd, 2006 – Viking Air Limited announced that it has acquired Type Certificates for seven de Havilland Canada heritage aircraft, including the DHC-2 Beaver and the DHC-6 Twin Otter, from Bombardier Inc. After receiving approval from Transport Canada on January 31, 2006, the transfer of the Type Certificates was completed Wednesday evening February 22nd, during a ceremony at the Canadian Aviation Museum in Ottawa.

"Ownership of the de Havilland Canada Type Certificates helps establish Viking as a first-tier original equipment manufacturer in the Canadian aerospace industry," said Viking President and Chief Executive Officer David Curtis. "This acquisition enhances Viking's proven ability to provide a full range of services across all the de Havilland Canada product lines to customers around the world."

The transfer of the Type Certificates completes a transaction first announced in May 2005, at which time Viking acquired specific assets from Bombardier's Commercial Service Centre (CSC) division, including product support responsibilities for the seven de Havilland heritage aircraft.

Since that time, Viking has successfully integrated the Bombardier CSC responsibilities, expanded its operations in Victoria, opened a warehousing and distribution facility in Calgary, Alberta, and has almost doubled its workforce.

In acquiring the Type Certificates Viking gains the exclusive right to re-start production for any of the seven de Havilland Canada aircraft types. The company is currently assessing market demand for each and will validate any positive findings with a full due diligence review before proceeding any further.

"Historically, de Havilland has produced aircraft of unmatched quality and reputation, and the global demand for de Havilland products remains incredibly strong. This acquisition opens up a number of new market opportunities for Viking. It represents a major opportunity to establish a product oriented aerospace industry in Western Canada and help build a critical mass of aviation in the region."

In all, approximately 3,500 de Havilland Canada aircraft were produced from 1947 to 1988, the largest fleet of aircraft produced in post war Canada. A large percentage of these aircraft are still in use today. The prototype DHC-2 Beaver, DHC-6 Twin Otter and DASH 7 are currently housed at the Canadian Aviation Museum in Ottawa, along with several other de Havilland Canada heritage aircraft.

Since 1983, Viking has held the exclusive rights to spare parts manufacturing and distribution for the venerable DHC-2 Beaver and the DHC-3 Single Otter aircraft and has been a major supplier to Bombardier on the DHC-6 Twin Otter and DASH Series product lines. Viking now provides a complete range of services for de Havilland's out of production aircraft, including spare part manufacturing and distribution, sales and customer service, technical support, and engineering services.

Specifically, Transport Canada has approved the transfer of the Type Certificates for the following de Havilland aircraft: DHC-1 Chipmunk, DHC-2 Beaver, DHC-3 Otter, DHC-4 Caribou, DHC-5 Buffalo, DHC-6 Twin Otter, DHC-7 Dash

The terms of the transaction have not been disclosed.

About Viking
Incorporated in 1970, Viking Air Limited has established itself in the aviation community as a high quality aerospace manufacturer and an aircraft modification, sales, leasing and repair facility. Current customers include Bombardier Aerospace, Bell Helicopter Textron, Middle River Aircraft Systems and numerous de Havilland heritage aircraft operators worldwide. For more information, please visit www.vikingair.com.

Viking is part of Westerkirk Capital Inc., a Canadian private investment firm with substantial holdings in the hospitality, aviation and real estate sectors. For more information, please visit www.westerkirk.ca.